Achilles Tendonitis
Your Achilles tendon is the strong fibrous band of tissue that connects your calf muscles to your heel. They named the tendon after "Achilles" who was a powerful, yet vulnerable warrior in Greek mythology. Likewise, our Achilles tendon, being the largest and strongest tendon in the body, is susceptible to injury by the high demands placed on it. (Running can generate forces over 12 times your body weight on the Achilles tendon.)
The tendon may be strained or even ruptured from excessive stretch or forceful contraction of the calf muscles. More commonly, the tendon is repeatedly overloaded and suffers tiny "micro-tears." Damage usually occurs either directly behind the heel or near the weakest area of the tendon- one to two inches above the heel.
Achilles tendon injuries affect between 250,000 and 1 million people per year. Most are middle-aged males, between the age of 30 and 50. Interestingly, Achilles tendon injuries occur more frequently on the left side. If you have suffered a prior Achilles tendon injury, you are at greater risk of injuring the opposite side. Two-thirds of all Achilles tendon injuries involve athletes. Runners are up to 10 times more likely to suffer Achilles tendon problems. You may at increased risk if the arch of your foot is too high or too flat.
Symptoms may begin abruptly following a strain but more commonly develop slowly from repeated irritation. Morning pain and stiffness are common. Your symptoms will probably increase with activity, especially walking or running. You may notice pain when you rise on your toes. Walking downstairs stretches the tendon and usually increases symptoms. Some patients notice that the irritated area becomes firmly swollen. Ongoing irritation to the spot on your heel where the tendon inserts can cause a painfully elevated "pump bump."
Research has shown that conservative care, like the type provided in this office, can produce "excellent results" in over 85% of patients.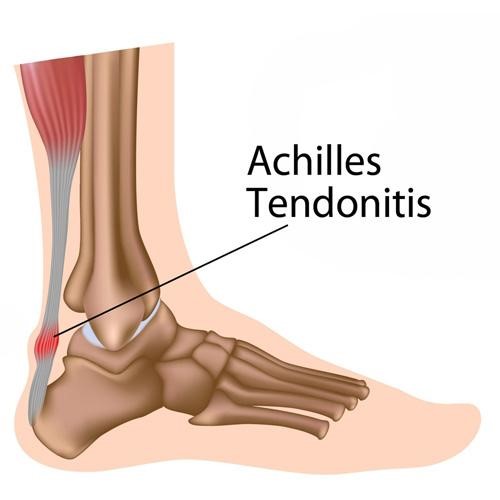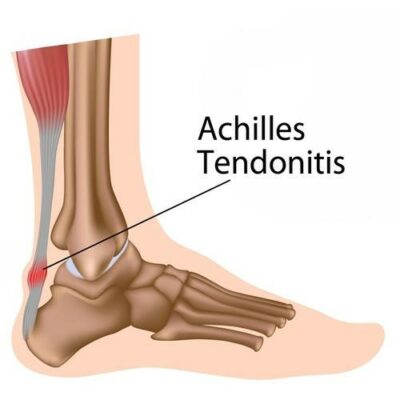 Sever's Disease
Sever's disease, also called calcaneal apophysitis, is a painful swelling near the insertion of the Achilles tendon on your heel. As our bones develop, we have "growth plates" which are softer areas where the bone is still growing. In children, this growth plate is weaker than in adults. This means that children are more likely to suffer growth plate injuries than adults, especially during periods of rapid growth. The powerful calf muscles attach onto your heel through the Achilles tendon. When your calf muscle contracts (like during running or jumping), it places a shear force on the growth plate of your heel. Sever's disease is an irritation to this sensitive growth plate.
Athletically active children who run and jump frequently in sports like soccer, basketball, gymnastics, and track & field are most likely to suffer from this condition. Sever's disease is slightly more common in boys, and the condition affects both heels about half of the time. Symptoms usually start as heel pain that gradually worsens during activity. Sometimes this can cause a "limp". Rest usually temporarily relieves the pain. Your provider will make the diagnosis of Sever's disease based on your history and an exam. Your provider may take an x-ray to rule out other injuries like a stress fracture.
---
Credit: Information on this page provided by ChiroUp.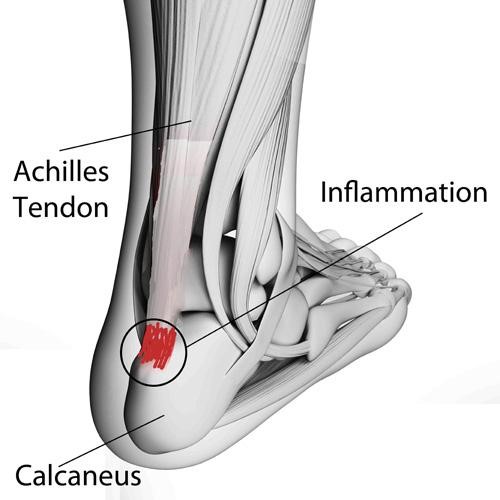 Dr. Matthew squeezed me in on short notice and took very good care of me. He was very thorough and didn't just adjust me and let me walk out. Amazing experience here and the receptionist is a sweetheart.
Dr. Wilson and Dr, Alec (PT) are both top-notch, and I've trusted my whole family with Dr. Matt Wilson for the last couple of years. My father was a chiropractor for over 40 years, so I knew what I was looking for, and he's the best we've found in the area.  Their approach is to get you feeling better, and not to string things out, costing you more time and money than necessary. While they have all the equipment necessary (x-ray, etc) they don't push unneeded services or snake oils. Both are caring, competent, and compassionate. The staff is good about finding appointments when you need them, and scheduling you with multiple people in a visit whenever possible. The new building is clean, well-appointed, and comfortable. Wait times are short, too. My husband has also had a therapy-based deep tissue massage from one of the two new massage therapists, and said it really helped!
I really love it here! They are very friendly and I feel Dr. Wilson is giving me great treatment! I also don't feel pressured into coming back too frequently. The adjustments are great! Great office!
Dr. Matt has done wonders for me and I recommend him highly – I can't say enough good things about him. Dr. Matt and staff are good people and will take great care of you.
Dr. Matt and the entire staff have been GREAT! I went in for some issues I was having with my neck and back and Dr. Matt also helped me with some other issues I was having with my calf and shoulders that have made a HUGE improvement in my overall health and comfort.

I highly recommend using Dr. Matt!
Very professional and in depth consultation. These people seem to genuinely care about people's health and progress.