The eight bones of the wrist form a U-shaped channel that houses several tendons and the Median nerve. This channel is called the Carpal tunnel. The median nerve handles sensation on the palm side of the first 3 ½ fingers. Compression or irritation of this nerve as it travels through the carpal tunnel causes the condition known as "Carpal tunnel syndrome".
Carpal tunnel syndrome is the most common nerve entrapment, affecting 3-5% of the general population. It affects females two or three times more frequently than males. Carpal tunnel syndrome most often affects adults aged 45-60.
Carpal tunnel syndrome can be brought on by prolonged wrist flexion and/or repetitive wrist movements like supermarket scanning, keyboard use, carpentry or assembly line work. Exposure to vibration or cold may also aggravate the condition. Carpal tunnel syndrome is more common in your dominant hand but frequently affects both hands. Some risk factors for developing carpal tunnel syndrome include diabetes, thyroid disease, rheumatoid arthritis, alcoholism, kidney disease, and being short or overweight. Fluid retention during pregnancy is a common cause of carpal tunnel symptoms.
Symptoms of carpal tunnel syndrome include numbness, tingling, or discomfort on the palm side of your thumb, index, middle finger, and half of your ring finger. The discomfort can sometimes extend towards your elbow. The symptoms usually begin as nighttime discomfort or waking up with numb hands, but can progress to a constant annoyance. Your symptoms are likely aggravated by gripping activities like reading the paper, driving, or painting. Early on, your symptoms may be relieved by "shaking your hands out". You may sometimes feel as though your hands are tight or swollen. In more severe cases, hand weakness can develop.
Compression of your median nerve in the carpal tunnel is often accompanied by compression at a second or third site as well. Researchers call this "double crush syndrome." Common "double crush" partners for carpal tunnel syndrome involve the spine or muscles in your neck, shoulder, and forearm.
If left untreated, carpal tunnel syndrome can cause permanent nerve damage. The American Academy of Neurology recommends conservative treatment, like the type provided in our office, before considering surgical alternatives.
---
Credit: Information on this page provided by ChiroUp.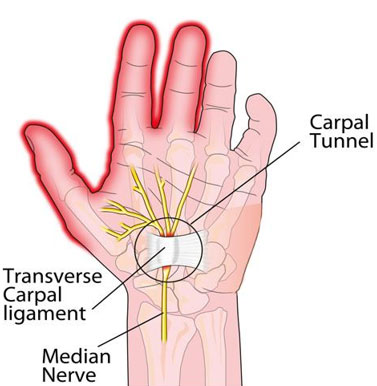 Dr. Matthew squeezed me in on short notice and took very good care of me. He was very thorough and didn't just adjust me and let me walk out. Amazing experience here and the receptionist is a sweetheart.
Dr. Wilson and Dr, Alec (PT) are both top-notch, and I've trusted my whole family with Dr. Matt Wilson for the last couple of years. My father was a chiropractor for over 40 years, so I knew what I was looking for, and he's the best we've found in the area.  Their approach is to get you feeling better, and not to string things out, costing you more time and money than necessary. While they have all the equipment necessary (x-ray, etc) they don't push unneeded services or snake oils. Both are caring, competent, and compassionate. The staff is good about finding appointments when you need them, and scheduling you with multiple people in a visit whenever possible. The new building is clean, well-appointed, and comfortable. Wait times are short, too. My husband has also had a therapy-based deep tissue massage from one of the two new massage therapists, and said it really helped!
Very professional and in depth consultation. These people seem to genuinely care about people's health and progress.
I really love it here! They are very friendly and I feel Dr. Wilson is giving me great treatment! I also don't feel pressured into coming back too frequently. The adjustments are great! Great office!
Dr. Matt has done wonders for me and I recommend him highly – I can't say enough good things about him. Dr. Matt and staff are good people and will take great care of you.
Dr. Matt and the entire staff have been GREAT! I went in for some issues I was having with my neck and back and Dr. Matt also helped me with some other issues I was having with my calf and shoulders that have made a HUGE improvement in my overall health and comfort.

I highly recommend using Dr. Matt!