Low back pain affects 80% of the population in their life and one-third of the population yearly. One of the most common causes of low back pain comes from a slightly misaligned or restricted joint in the spine. We refer to this condition too as "lumbar segmental joint restriction" or more simply a "subluxation." The term "subluxation" literally means "less than a dislocation."
The lower back is made up of 5 bones stacked on top of each other with a soft "disc" between each segment to allow for flexibility. Normally, each joint in the spine should move freely and independently.
To help visualize this, imagine a normal spine functioning like a big spring moving freely in every direction. A spine with a joint restriction is like having a section of that spring welded together. The spring may still move but a portion of it is no longer functioning.
Joint restriction can develop in many ways. Sometimes they are brought on by an accident or an injury. Other times, they develop from repetitive strains or poor posture. Several factors may increase the likelihood you may experience low back pain. These include: being overweight, smoking, strenuous work, repetitive bending, twisting and lifting, prolonged exposure to entire body vibration- I.e. operating a motorized vehicle, stress, anxiety, depression, dissatisfaction with your job, and even your attitude!
Restricted joints give rise to a self-perpetuating cycle of discomfort. Joint restriction causes swelling and inflammation, which triggers muscular guarding leading to more restriction. Since the spine functions as a unit, rather than as isolated pieces, a joint restriction in one area of your spine often causes "compensatory" problems in another. Think of this as a rowboat with multiple oarsmen on each side. When one rower quits, they place the others under additional stress and can become overworked.
Joint restrictions most commonly cause local tenderness and discomfort, and often limited range of motion. Movement may increase discomfort. Pain from a restricted joint often trickles down to the hips or thighs. Be sure to tell your chiropractor if symptoms include any radiation of pain below the knee, weakness, groin numbness, or changes in bowel or bladder function.
Long-standing restrictions are thought to result in arthritis – much like the way a slightly misaligned wheel on your car causes premature wearing of your tire.
Low back pain is common and treatable. Chiropractic care has been shown to be the safest and most effective treatment for joint restrictions. Our office offers several tools to help ease your pain including chiropractic care, acupuncture, and dry needling, and often customized stretches and exercises supporting your recovery from low back pain.
---
Credit: Information on this page provided by ChiroUp.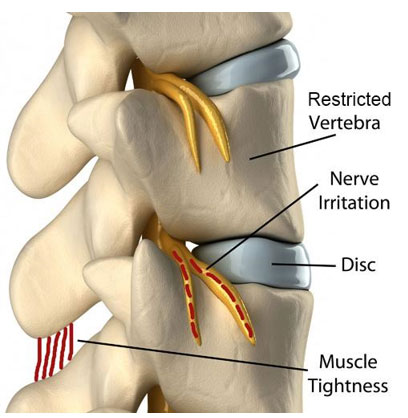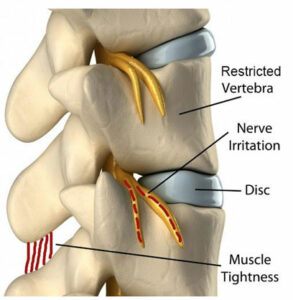 Dr. Wilson and Dr, Alec (PT) are both top-notch, and I've trusted my whole family with Dr. Matt Wilson for the last couple of years. My father was a chiropractor for over 40 years, so I knew what I was looking for, and he's the best we've found in the area.  Their approach is to get you feeling better, and not to string things out, costing you more time and money than necessary. While they have all the equipment necessary (x-ray, etc) they don't push unneeded services or snake oils. Both are caring, competent, and compassionate. The staff is good about finding appointments when you need them, and scheduling you with multiple people in a visit whenever possible. The new building is clean, well-appointed, and comfortable. Wait times are short, too. My husband has also had a therapy-based deep tissue massage from one of the two new massage therapists, and said it really helped!
Very professional and in depth consultation. These people seem to genuinely care about people's health and progress.
Dr. Matt has done wonders for me and I recommend him highly – I can't say enough good things about him. Dr. Matt and staff are good people and will take great care of you.
Dr. Matt and the entire staff have been GREAT! I went in for some issues I was having with my neck and back and Dr. Matt also helped me with some other issues I was having with my calf and shoulders that have made a HUGE improvement in my overall health and comfort.

I highly recommend using Dr. Matt!
I really love it here! They are very friendly and I feel Dr. Wilson is giving me great treatment! I also don't feel pressured into coming back too frequently. The adjustments are great! Great office!
Dr. Matthew squeezed me in on short notice and took very good care of me. He was very thorough and didn't just adjust me and let me walk out. Amazing experience here and the receptionist is a sweetheart.