The term "thoracic outlet" describes an area at the base of your neck, just above your collarbone. Important nerves and vessels pass through this outlet on their way into your arm. Compression of these tissues causes a condition called "thoracic outlet syndrome" which results in pain, numbness, or tingling in your arm.
Several factors can cause Thoracic Outlet Syndrome, often referred to as TOS. Sometimes TOS is caused by tightness in the muscles of your neck and chest, other times the space between your first rib and collarbone is too small. People who have an extra rib (cervical rib) and people who have recently suffered a neck injury may have a greater chance of having this problem.
The condition is aggravated by poor posture and by occupations that promote "slouching," i.e., computer users, assembly line workers, supermarket checkers, and students. Swimmers, volleyball players, tennis players, baseball pitchers, and occupations requiring prolonged overhead activity. i.e., electricians and painters are also candidates for TOS.
Symptoms of TOS include arm pain, numbness, tingling, and possible weakness. Neck, arm, and hand pain may begin slowly and are often aggravated by elevation of the arms or excessive head movement. Loss of grip strength is possible.
You should avoid carrying heavy loads, especially on your shoulder i.e., carpet rolls. Briefcases, laptop cases, or heavy shoulder bags should be lightened. Bra straps may need additional padding or consideration of replacement with a sports bra.
Conservative treatment, like the kind we provide, is typically effective at treating TOS.
---
Credit: Information on this page provided by ChiroUp.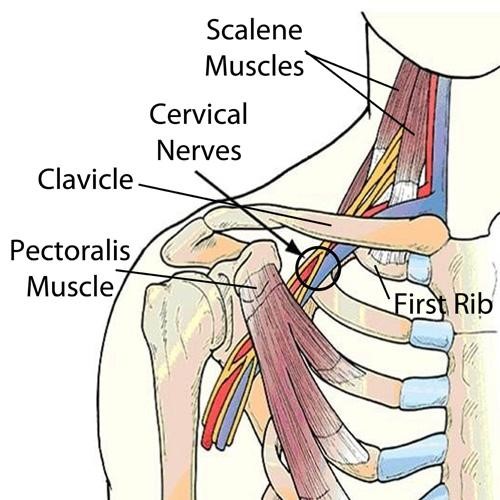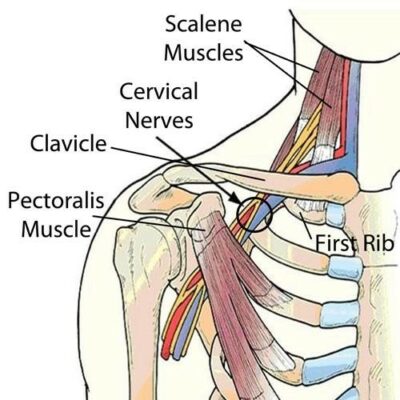 Dr. Matt has done wonders for me and I recommend him highly – I can't say enough good things about him. Dr. Matt and staff are good people and will take great care of you.
Very professional and in depth consultation. These people seem to genuinely care about people's health and progress.
Dr. Matt and the entire staff have been GREAT! I went in for some issues I was having with my neck and back and Dr. Matt also helped me with some other issues I was having with my calf and shoulders that have made a HUGE improvement in my overall health and comfort.

I highly recommend using Dr. Matt!
I really love it here! They are very friendly and I feel Dr. Wilson is giving me great treatment! I also don't feel pressured into coming back too frequently. The adjustments are great! Great office!
Dr. Matthew squeezed me in on short notice and took very good care of me. He was very thorough and didn't just adjust me and let me walk out. Amazing experience here and the receptionist is a sweetheart.